New Delhi
Noted lyricist, Bollywood personality, and poet Javed Akhtar spoke candidly with the Pakistani audiences at the Faiz Literary Festival of Lahore. While speaking on India-Pakistan relations, he said the Pakistani people should not mind the Indian side telling them that terrorists are coming from their side."
He said: "There is indeed a heated environment on both sides but I am from Mumbai; our city was attacked and those guys did not come from Norway."
His allusion was to the Lashkar-e-Toiba terrorists who attacked Mumbai in 2008 and killed
He told Pakistanis that "those guys (terrorists) are still roaming around in your cities. Therefore you should not mind when India complains.'
While replying to questions from the audience about why India does not encourage Pakistani artists to perform, he told a jam-packed auditorium in Lahore, "the obstacle may be on both sides but it seems they are a little more on your side. Think of it: in India, we have done big functions of Mehdi Hasan and Nusrat Fateh Ali Khan, in your case, in Pakistan, Lata Mangeshkar.. no function was ever held."
His comment was received with thunderous applause.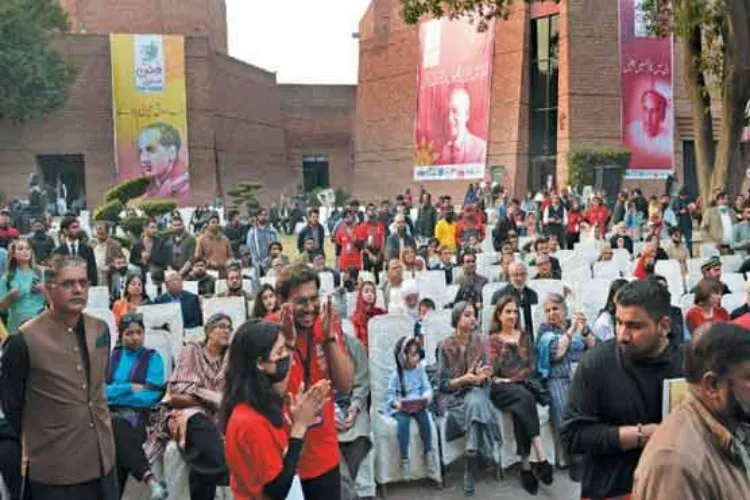 Glimpses of Faiz Literary festival in Lahore, Pakistan

Akhtar and his actor wife Shabana Azmi crossed the Attari-Wagah from Amritsar to reach Lahore by road.
Speaking at the opening day of the festival, Akhtar said, that not using Urdu as the mother tongue was creating a situation where people eventually get separated from their culture.
He said since children prefer to learn the English language instead of mother tongues including Urdu these languages have become the property of the poor.
Well-known writer, lyricist, and poet Javed Akhtar gave a detailed discussion on the importance and history of Urdu as a mother tongue and expressed his views regarding Urdu poetry.
Javed Akhtar is in Pakistan to participate in the seventh edition of the ongoing Faiz Festival in Lahore. Javed Akhtar said in a session called Jadunama that the purpose of writing poetry is to connect with people, and that's why good poetry must convey the feelings of the poet.
According to Javed, the purity of a language and originality of language is just a myth. "In a language, the process of incorporating words from other languages ​​is going on all the time", he said.
Javed Akhtar pointed out that the Oxford dictionary adds at least 25 new words to the English language every year, but here we have so-called "contractors of language" who continue to delete words from the language because these are borrowed from other languages. As a result, we ate limiting the vocabulary will be limited.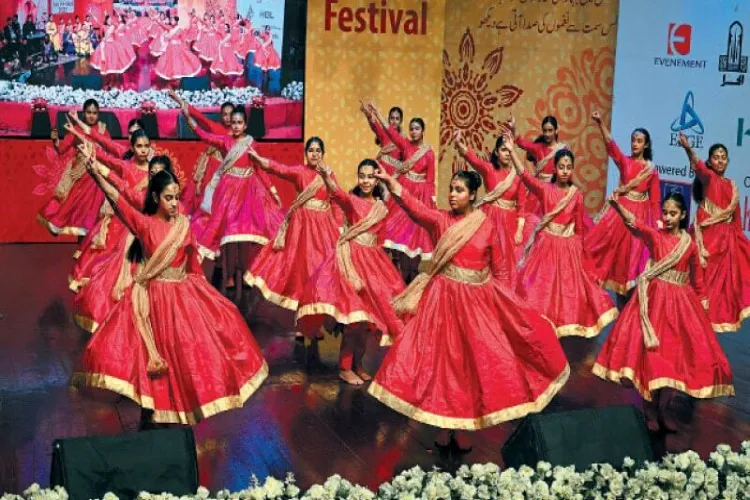 Young women performing Kathak dance at the Faiz Literary festival  in Lahore

He pointed out the words of different languages ​​including Arabic, Italian, Punjabi, Gujarati, Persian, Turkish, Tamil, English, Japanese, and Sanskrit, and gave an example of a passage from Urdu, he said that 'Language is not created overnight. Rather, it has to go through a long and slow process.
Javed Akhtar said that giving up the language means separating from the people and the culture, expressing concern that 'nowadays children are preferring to learn the English language instead of their mother tongue', he stressed. Giving said that a person should know his mother tongue whatever language it is.
He said that when Sheikh Abdul Qadir translated the Holy Quran into Urdu in 1798, a fatwa was issued against him, at that time Urdu was called the language of hell.
He said that he felt proud that Urdu was his mother tongue, whereas the poetry of other languages ​​started from temples and churches. It was against superstition and fundamentalism.
He lamented that everything has become materialistic in South Asia He said that materialism started with his generation while his parents did not give much priority to this trend.
He said that when the British introduced the curriculum in schools, it was decided to divide languages ​​based on religion. The Gurumukhi curriculum was based on Sikhism, the Devanagari curriculum was linked to Hindi, and the Muslim curriculum was linked to Persian and Arabic.
People in India have not left Urdu or Faiz; love for Faiz Ahmed Faiz remains. "There is magic in the poetry of Faiz Ahmed Faiz. Faiz Ahmed Faiz's poetry is as popular in India as in the Urdu language as well as in Hindi."
Javed Akhtar said that the distance between Lahore and Amritsar is 30 km, but the ignorance in both countries is amazing, the girls sitting in Lahore do not know that some Punjabis are also Hindus.
ALSO READ: Irshad Ali of Banaras wants his hand-scripted Gita to be displayed in Parliament
He said that there are people in India and Pakistan who want peace; it's their responsibility to keep pressure on their governments. "We make efforts, but one incident can destroy all the work."