Sheikh Dr. Muhammad bin AbdulKarim Al-Issa, secretary-general of the Muslim World League
New Delhi
In his first Arafat sermon delivered at the end of the Haj pilgrimage in the year 2022, Sheikh Dr. Muhammad bin AbdulKarim Al-Issa, secretary-general of the Muslim World League spoke of the "respect that Muslims must have for other faiths and the need for harmony among religions."
Even before this historic sermon from Namirah Mosque, where the pilgrims gather at Mount Arafat, about 20 kilometers from the Kaaba on the Arafat plains, made the world sit up and take notice of this Muslim leader, Dr Al-Issa had earned his credentials as a changemaker and global religious leader as Justice Minister of the Kingdom of Saudi Arabia.
In his mid-fifties, the Riyadh-born Islamic jurisprudence scholar became the Minister of Justice in Saudi Arabia. He oversaw key reforms in several areas, including legislative reforms in family matters, humanitarian cases, and the rights of women. This was even before Crown Prince Mohammad Bin Salman's launched his campaign for changing the country's social and economic structures.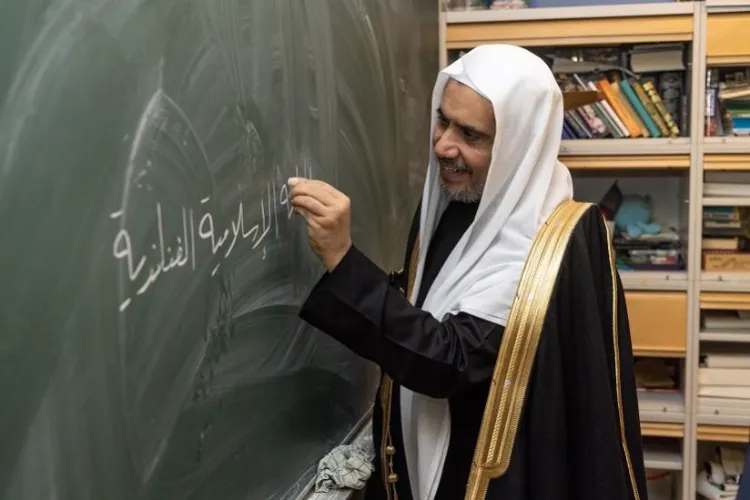 Dr. Muhammad bin AbdulKarim Al-Issa

In this backdrop when Dr Al-Issa embarks on a week-long visit to India on July 10, he is more than just a high-profile dignitary. His visit is keenly awaited in the world's most diverse nation for his innate faith in the unity of humans as Indians occasionally seek validation of their values and appreciation of their multi-faith and multi-cultural nationhood.
His Arafat sermon continues to be a template to know what Dr Al-Issa stands for. He had urged Muslims to continue to carry out good deeds and treat others well, including those of other beliefs. "All people, whether Muslims or not, respect those with good manners, for sound conduct is a high human value," he said. He urged the faithful to distance themselves from actions that can cause disharmony, hatred, and division – an allusion to terrorists and divisive forces.
"Dear worshippers performing Hajj at Allah's sanctified house; dear Muslims: Among the values taught by Islam are avoiding all that leads to dissent, animosity, or division; and instead, ensuring that our interactions are dominated by harmony and compassion," Dr. Sheikh Mohammed Al Issa told the faithful in Arafat.
"These values come at the head of what adhering to the Quran and Sunnah means … It is that unity, brotherhood, and co-operation which constitutes a fortification of safety that protects our Ummah and its togetherness, and also contributes to maintaining sound interactions with others," he said.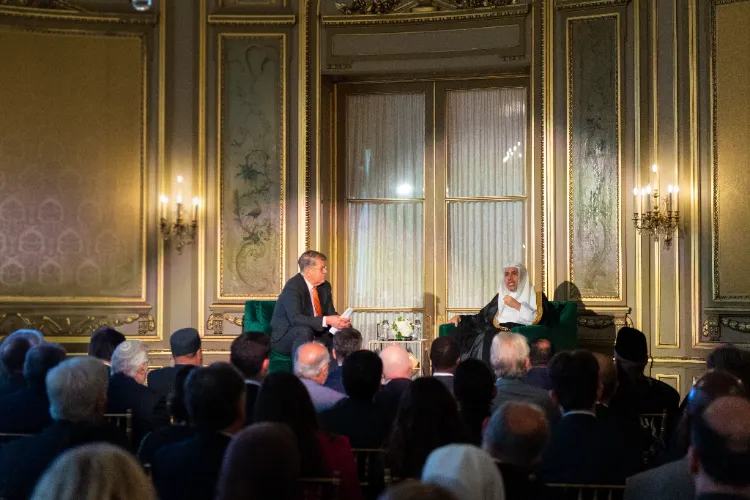 Dr. Muhammad bin AbdulKarim Al-Issa interacting with western people

Al Issa was Saudi Arabia's minister of justice before he was appointed to lead the Muslim World League. He is also a member of the Council of Senior Scholars in Saudi Arabia.
He also led a historic high delegation interfaith visit of Muslim religious leaders in 2020 to the site of the Auschwitz concentration camp in Poland.
The Hajj sermon was translated into 14 languages including Hindi, Urdu, Bengali, and Tamil.
Dr. Al-Issa has been a trailblazer in building new partnerships among different communities, faiths, and nations. He also heads the Intellectual Warfare Center, a body affiliated with the Saudi Defense Ministry dedicated to combating extremist and terrorist ideology.
Dr. Al-Issa's groundbreaking interfaith efforts include his trip to Auschwitz in January 2020 for the 75th anniversary of the liberation of the death camp. The Auschwitz Museum declared it the most senior Islamic delegation ever to visit. He has been recognized by the American Jewish Committee, the American Sephardi Federation, and the Combat Anti-Semitism Movement for his leadership and initiatives to combat anti-Semitism, Islamophobia, and hate speech around the world.
In 2019, Dr. Al-Issa led representatives of the Abrahamic religions in France in signing an agreement for peace and solidarity and held a conference on reconciliation in Sri Lanka to heal inter-religious divides created by the terrible Easter terrorist attacks. Dr. Al-Issa also met with His Holiness Pope Francis in 2017 to forge a first-of-its-kind agreement between MWL and the Vatican.
The American Jewish Committee (AJC) has described Dr. Al-Issa as "the most powerful voice in the Muslim world promoting moderate Islam." Cardinal Timothy Dolan has called Dr. Al-Issa "the most eloquent spokesman in the Islamic world for reconciliation and friendship among the religions."
President Russell Nelson of the Church of Jesus Christ of Latter-day Saints said, "You are a peacemaker. You are a bridge builder. And we need more leaders like you." President Ari Berman of Yeshiva University hailed Dr. Al-Issa's efforts to rebuild the historic relationship between Muslims and Jews by engaging and educating the next generation of leaders.
Dr. Muhammad bin AbdulKarim Al-Issa and other leaders walking into Auschwitz Holocaust Museum
 The U.S. Ambassador-at-Large for Religious Freedom Sam Brownback has praised Dr. Al-Issa's partnership in bringing together the Abrahamic faiths and pushing back against forces of hate, calling him "a constituent of the future, of what the world needs, and will look like in the future. I applaud it." U.S. Special Envoy for Monitoring and Combatting anti-Semitism Elan Carr applauded Dr. Al-Issa's "remarkable vision and his commitment to turning over a new chapter and building a new future for the sake of not only Jewish and Christian children but for the sake of all the children of the world who deserve this better future of decency and justice and tolerance and love that we know we can build for them, thanks to his leadership."
The 2020 U.S. State Department Country Reports on Terrorism recognized Dr. Al-Issa's achievements in countering violent extremism: "The Muslim World League Secretary General, Dr. Mohammad al-Issa, pressed a message of interfaith dialogue, religious tolerance, and peaceful coexistence with global religious authorities, including Muslim imams outside the Arab world. He also conducted outreach with a variety of Jewish and Christian leaders, including prominent U.S. rabbis and Christian evangelicals."
The 2019 U.S. State Department Report on Counterterrorism hailed Dr. Al-Issa's leadership in promoting moderate Islam: "He continues to work hard to deliver the message of moderation and coexistence internationally, including efforts to reach out to Muslim minority communities, Jewish communities in the United States and Europe, and Christian churches in the Middle East."
ALSO READ: India-Arab relations date back to era when Arabs learnt sciences from Hindus
In 2019, Dr. Al-Issa visited Sri Lanka to meet with Buddhist and Muslim religious leaders to promote healing and integration in the wake of the country's deadly Easter attacks. He received the Order of Peace from Sri Lankan President Maithripala Sirisena.