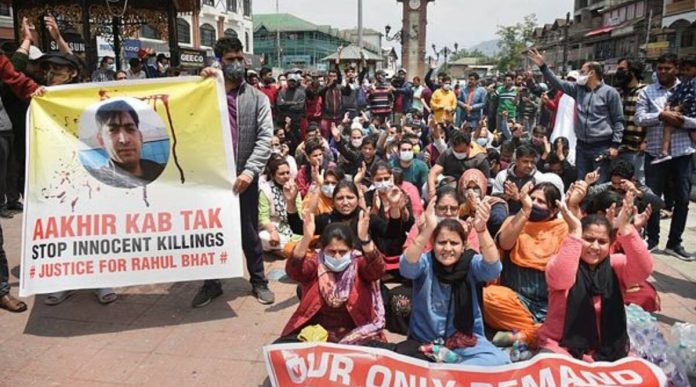 The killing of a Kashmiri Pandit man in Shopian district of Kashmir last week evoked a sharp condemnation from the Union Territory administration and the mainstream political parties.
Auqib Javeed | TwoCircles.net
SRINAGAR (JAMMU AND KASHMIR) — 30-year-old Sandeep Koul has finally decided to migrate from Kashmir valley as he thinks his community isn't safe. Koul is a Kashmiri Hindu also known as Pandits, a miniscule minority in Muslim majority Jammu and Kashmir. 
When thousands of Kashmiri Pandits left Kashmir in the 1990s amid violence, his father decided to stay and live with their Muslim brethren.
However, Koul said "too much blood" has been spilled and they want to live an honorable life.
"We have decided to leave the valley as we are living under perpetual fear. No one can stop us from leaving," said Koul, who lives in the Habba Kadal area of summer capital Srinagar.
On August 16, the militants shot dead a Kashmiri Pandit and injured his cousin at an apple orchard in south Kashmir's Shopian district, evoking sharp condemnation from the Union Territory administration and the mainstream political parties.
According to police, two militants belonging to the banned Al-Badar militant organization came to the orchard on Tuesday morning and lined up everyone.
After identification, they segregated Sunil Kumar Bhat and his cousin Pitamber Kumar Bhat and shot indiscriminately at them with their AK-47 rifles.
The attack came a day after militants threw a grenade at a house in Budgam and injured a civilian identified as Karan Kumar Singh.
Sunil Kumar, who left behind four daughters and his wife, was cremated in the evening amid slogans of "Hindu Muslim Sikh Etihad (Unity of Hindus, Muslims and Sikhs)".
Why are Kashmiri Pandits becoming targets?
Since the abrogation of Article 370 in August 2019, over 120 civilians, including five Kashmiri Pandits and 16 other Hindus and Sikhs, were killed in Kashmir. 
The first such targeted killing happened on October 5, 2021, when militants shot dead a known Kashmiri Hindu chemist, Makhan Lal Bindroo inside his shop near Srinagar's Iqbal Park. 
On May 12 this year, the militants shot and killed another Kashmiri Pandit inside his office in Jammu and Kashmir's Budgam district. The victim was identified as Rahul Bhat, an employee of the Chadoora area Tehsildar office.
Since then, the members of the Pandit community have been up in arms against the government and threatened mass exodus if they weren't provided security and shifted to safer places. 
A number of Pandit families even migrated to Jammu and other states of India after his killing. The government, however, denied any migration taking place and didn't allow them to migrate.
On August 16, when Divisional Commissioner Kashmir, Pandurang K. Pole rushed to South Kashmir's Choutigam village to express his condolence over the killing of yet another Kashmiri Pandit, he faced the wrath of the family who asked him "what he has come for".
A video of the incident was shared by Kashmiri Pandit Sangharsh Samiti (KPSS)—a pandit body, on Twitter and went viral on Social Media. 
Pole was not the only visitor who faced the heat of the family. Dozens of journalists who went to cover the killing were pushed and heckled by the family for "earning out of their misery."
There is a reason for the anguish of Pandits as this was not the first time that the minority community were targeted in the village. Earlier, on April 4 this year, the militants struck in the same village and opened fire on Kashmiri Pandit chemist Balkrishen Bhat alias Sonu Kumar, who miraculously escaped death. He was injured and remained in hospital for a long period.
"The government is unable to save our lives and at the same time, they don't allow us to migrate. What should we do now," said Anil Bhat, a Kashmir Pandit whose brother was shot and injured by militants in Shopian last year. 
Satish Mahaldar, another Kashmir pandit, told TwoCircles.net that there is a misconception among the people of Kashmir that every Pandit is supporting Bharatiya Janata Party (BJP) and its mission.
"Let me tell you very clearly. I belong to Kashmir and my land and job should be protected. We are in favour of that," Mahaldar said.
He further said that BJP wants to erase the identity and culture of Kashmir and the Pandits will never support it.
"BJP is making us scapegoats for their own political benefits," Mahaldar added. 
Fears of demographic change
A top police official told TwoCircles.net that since militants are unable to target security establishments they have changed their strategy and attack "soft targets" to show their presence. 
The official, who wished not to be named, added that militants have this apprehension of demography change in Kashmir and thus they want to create a sense of fear among the minority community.
"But we won't let it happen. We have taken several measures for the safety and security of the minority community," the police official said. 
The family refused to talk to this reporter saying "journalists should question the government, not the family."
Pandits knock the door of judiciary
After the targeted killings, KPSS sought the Jammu and Kashmir High court's intervention to direct the government to relocate all religious minorities from Kashmir. However, the court refused to intervene in the matter saying that the issue could be resolved at the government level.
After the killing of Bhat, KPSS in a statement appealed to its members to leave the valley and save their lives. 
"No member of the community is safe in Kashmir," KPSS said.

Auqib Javeed is a journalist based in Kashmir. He tweets at @AuqibJaveed
SUPPORT TWOCIRCLES

HELP SUPPORT INDEPENDENT AND NON-PROFIT MEDIA. DONATE HERE