Ahmed Ali Fayyaz
Seventy-six years after the Indian Army's first landing at the Srinagar Airport following the Pakistani raiders' invasion, most of the Kashmiris continue to have a blurred idea as to who Maqbool Sherwani was. The 31-year-old National Conference worker of Baramulla was brutally murdered by the raiders for misleading them on the way to Srinagar which delayed their attack on the airport and resulted in their defeat.
 The 16-day-long invasion failed in Kashmir due to a strong military response from the Indian Army soon after Maharaja Hari Singh signed the Instrument of Accession with India on 26 October 1947.
The role played by some Kashmiri volunteers like Sherwani was historic.
Had Sherwani not misled the marauders, they would have most probably captured the airport and the capital city of Srinagar would have fallen well before the Indian Army's arrival. Even after they defeated the raiders in the battles of Budgam and Shalteng, the Pakistanis captured Sherwani in Sumbal and later shot him dead at Baramulla on 7 November 1947.
People in Baramulla believe that Sherwani was hanged to death and his body was fixed to a poplar tree with nails. However, the available historical evidence does not support these graphics.
Born in a Baramulla family that owned a small soap factory, Sherwani had joined Sheikh Mohammad Abdullah's party at a young age when its name was changed from Muslim Conference to National Conference in 1939. He had a firm faith in the valley's plural ethos, co-existence, and communal harmony as Sheikh's most popular slogan was Hindu Muslim Sikh Ittihad.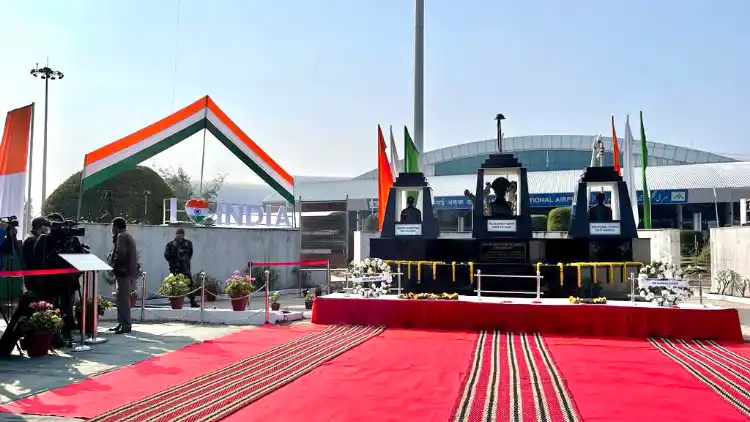 Memorial of Maqbool Sherwani at Baramulla, Kashmir

Sherwani used to recite the poems of socialist revolutionary poets like Faiz Ahmad Faiz, Majrooh Sultanpuri, Ali Sardar Jafri, Sahir Ludhianvi, and the valley's own Ghulam Ahmad Mehjoor, Abdul Ahad Azad, and Dinanath Nadim. He was one of the NC volunteers who joined the resistance forces of the national militia and led several detachments of militiamen to keep the people's morale up.
After realising that they had been cheated, the fleeing raiders captured and killed Sherwani in Baramulla. For his courage, he earned the sobriquet 'Lion of Baramulla' after his murder. Every year, in his memory, at Maqbool Sherwani Auditorium and Mohammad Maqbool Sherwani Memorial in Baramulla, tributes are paid to him on his anniversary.
The Balidan Stambh monument by the Jammu and Kashmir Light Infantry also bears the name of Maqbool Sherwani. Writer Mulk Raj Anand wrote an account of Sherwani's story in his novel "Death of a Hero" which was later adapted into a television show, Maqbool Ki Vaapsi. Doordarshan Kendra Srinagar telecast it in 2011.
Sheikh Abdullah, who took over as Jammu and Kashmir's first Prime Minister in 1948, got Srinagar's iconic civil line street Residency Road named as Maqbool Sherwani Road. A municipal hall in Baramulla still exists in Sherwani's name. Besides, there is Maqbool Sherwani Ward at the Sher-e-Kashmir Institute of Medical Sciences (SKIMS) Soura, Srinagar.
According to the distinguished political and cultural historian Mohammad Yousuf Taing, the state government's Department of Information had also made a documentary film on the tribal raid and highlighted Sherwani's role in failing the invasion.
"The Field Publicity Unit of the Information Department screened that film at some theatres in Srinagar as also on celluloid in several villages," Taing told this writer in October 2020. Taing has served as Secretary of J&K Academy of Art, Culture, and Languages, Director General of Information, Archives and Museums, a member of J&K State Public Service Commission, and NC's Member of the Legislative Council. In 1980, Sheikh picked Taing as the scribe of his autobiography Aatish-e-Chinaar.
How Kashmir's intellectual fraternity has viewed the tribal invasion is best preserved in a chapter of Kuliyaat-e-Mehjoor, the complete collection of Ghulam Ahmad Mehjoor's poems. Mehjoor (1887-1952) is indisputably the most representative voice of Kashmir's cultural and literary domain in the last over three centuries.
Years before Taing published Kuliyaat-e-Mehjoor in 1985 Balraj Sahni with director Prabhat Mukherjee made 'Shayar-e-Kashmir Mehjoor', a biopic on Mehjoor, in 1970-71. Sahni himself played Mehjoor. It was screened at theatres in J&K and outside. Mehjoor is to Kashmiri literature what Faiz Ahmad Faiz is to Urdu and William Wordsworth to English.
Maqbool Sherwani

In his poem Nalla-e-Sherwani, Mehjoor sums up Sherwani's suffering on the night of November 6/7 when he was in captivity in Baramulla. It rhymes Sherwani's message to the people of Kashmir on the last night of his life. Mehjoor, through Sherwani, calls the raiders as 'cannibals' and 'scoundrels: 
The cannibals have descended from the mountains
They have the blood of a multitude of innocents on their hands
They have made my country a veritable hell
It was a garden of flowers and they have laid it waste
They trained their arrows on the nightingales
They threw stones at crystal shops
Had you been armed they wouldn't have dared to attack (Translated from Kashmiri )
In another poem titled Ahad-o-Paiman-e-Hazratbal, Mehjoor crafts a poetic version of Sheikh Abdullah's address to a gathering on the occasion of Eid-e-Meelad-un-Nabi at Hazratbal, Srinagar, on 14 January 1949. Here is the part on the tribal raid:
"The tribals of Pakistan invaded Kashmir
It were the tribal Pathans who attacked
From Hazara and the hills of Murree
They advanced rapidly, they were cruel like Hitler
They wanted to turn this mountainous land upside down
They stormed Kashmir in lightning haste
How they misbehaved with the Kashmiri people
Is known to all and needs no recounting
They spread over the country like a pestilence
The sky and the earth trembled
The forests resounded with piteous cries
They looted the whole of Kamraz (Northern Kashmir)
Then they started advancing towards the city
We were horror-struck to see this tempest advancing
It was a matter of life and death for us.
Our life, property and honour were destroyed
We had neither weapons nor a standing army
We had neither refuge nor a place of escape…
We pondered over the situation and the course correction
We rushed to India and asked for their help
We decided to temporarily accede to India
In that situation that was the proper course of action.
The Indian army was airlifted to Kashmir (Translated from Kashmiri)
Interestingly, however, Sherwani has been forgotten in Kashmir's cultural and historical landscape over the decades. Seventy-six years later, there is no signboard to show the direction of Sherwani Road which is continuously known by its British colonial name of Residency Road. Visitors to the Srinagar Smart City's much-touted Poloview High Street have no idea that they are walking on the road which was named after the man who saved Kashmir for India.
The Sherwani Hall at Baramulla was gutted in a mysterious fire around 1989. It was eventually reconstructed and a commemorative plaque in Sherwani's name was installed by the Governor, Lt Gen S.K. Sinha in 2007.
 And hold your breath! Even Kulliyat-e-Mehjoor is nowhere available in J&K's bookstores, reading rooms, and public libraries. Its first and the last edition appeared in 1985. The chapter on the tribal invasion has neither been a subject of critical appreciation at a literary assembly nor taught in undergraduate or postgraduate courses of any college or university after 1990.
"Had Taing Sahab not preserved a treasure in Kulliyat, the world would have known nothing about it. Previously Ali Mohammad Book Sellers had published Mehjoor's poems in small pamphlets. But those are not available now," said a prominent Kashmiri researcher.
ALSO READ: What made Kashmiri youth lose memory of horrors of kabali raid?
"The Cultural Academy officers offer a lame excuse that Mehjoor's descendants have served a legal notice on the copyright. Everybody knows that the copyright is retained only up to 40 years after an author's death. Anybody is free to print Mehjoor's poetry after 1992. No government has shown a will," he asserted.