Written by
Manish Sahu
| Lucknow |
Published: September 19, 2018 3:33:36 am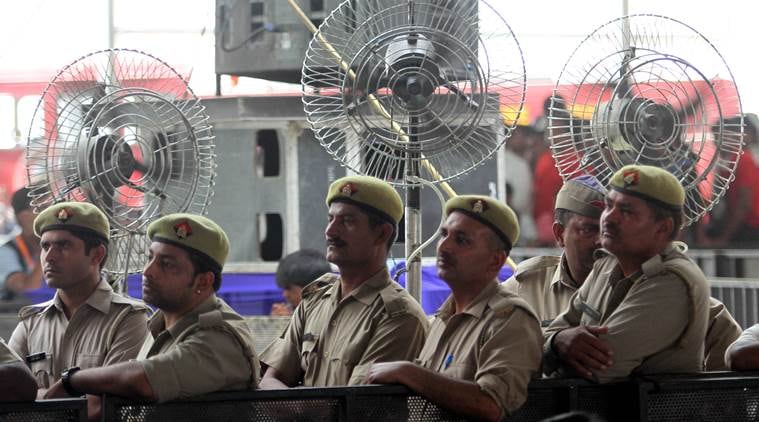 In Amroha, police have issued 'red card' notices to 1,200 local residents.
The police in four districts of western Uttar Pradesh — Amroha, Rampur, Sambhal and Bareilly — have issued 'red cards' to people who they suspect could create a nuisance during Muharram processions.
The 'red card' carries do's and dont's for the processions, and attached to the card are sheets that carry information on criminal charges that can been invoked against those who violate the instructions, and the quantum of sentence under the charges. Muharram processions, which started on September 12, will conclude on September 21. The 'red card' notices were served to people of various communities at their homes a week before they began, sources said.
The instructions on the 'red card' prohibit creating of rumours against members of the Hindu, Muslim and any other community, use of objectionable words against any religion and warn against any hindrance to Muharram processions. Police directed that those taking out processions must not use a DJ and introduce new traditions. The 'tazia' should be taken out from the same old routes and since section 144 CrPC (unlawful assembly), is in force, those participating in the processions should not carry weapons.
In Sambhal, as many as 750 persons have been issued 'red card' notices. The list of people to be issued these cards was prepared by police stations on the basis of criminal records, intelligence inputs and information provided by local residents. "If anyone is found violating the directives, legal action will be taken against them," said Additional Superintendent of Police, Sambhal, Pankaj Kumar Pandey.
In Amroha, police have issued 'red card' notices to 1,200 local residents, mostly from rural areas. Sources said the police officers who went to serve the notices explained the instructions in detail to the recipients. "These notices were sent to them around 10 days before the processions started. 'Red card' notices are served to people who are suspected to be troublemakers, irrespective of their caste and religion," said Additional Superintendent of Police, Amroha, Brajesh Singh.
In some areas, police have taken "sureties" from people so that in case they create a nuisance, the amount will not be returned to them.
Superintendent of Police, Rampur, Shiv Hari Meena said, "These red cards are warning notices issued by police to nuisance creators. We have also bound down several people."
Assistant Superintendent of Police, Bareilly (Rural), Dr Satish Kumar said, "The red card notices were issued to put psychological pressure on nuisance creators. This is a kind of preventive measure taken by police." In Bareilly, around 2,000 people have been issued 'red cards', Kumar said .
For all the latest Lucknow News, download Indian Express App